Sydenham Nocturne offspring
Brazos Lucky Charm, Welsh Cob
2008 filly by Sydenham Nocturne
out of Lyndon's Rosina Bay
bred by Tracy and Chris Pratt
Lyndon's Nocturnal Luna was born 7/4/05.
Dam is TB - Moonie
Sire is Syndenham Nocturne.

Rainie
2004 Filly by Nocturne out of Section D mare Lyndon's Rosina Bay. Bred by Tracy and Chris Pratt of
Brazos Carriage Company.

Photo by Terrie Hatcher
Drafty Manor's M ap Nocturne
(Miaren) - 2003 Colt by Nocturne out of the TB mare Ohwhattalovelynight
Congratulations to Jennifer and Bart Stewart
| | |
| --- | --- |
| Lily - 2002 Filly by Nocturne, out of the TB mare Jeannie | |
Nocturne daughter and grand-daughter.
Nocturne's Lucky Lady. Shown in hand in 2000. Was 4th NATIONALLY in the Welsh Pony and Cob Association's year-end High Point Awards!
She was the Supreme Champion at the Central Welsh Pony and Cob show in Missouri that year.
Brolly
2000 year gelding
by Sydenham Nocturne out of a TB mare
Lyndon's Rhiannon - Mare by Sydenham Nocturne out of a TB mare. Rhiannon scored 8.5 at the AWR Inspection as a three year old.
Congratulations to Chris Cirone on his purchase, and good luck with the Hickory Creek Hunt.
| | |
| --- | --- |
| Nocturne's Last Lady (Magic) - Cob Mare by Nocturne - Ridden by Candice Upchurch. | photos by Jim Stoner |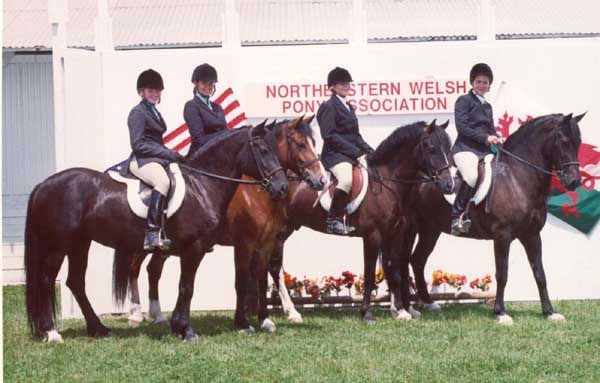 (L to R) Candice Upchurch on Nocturne's Last Lady (Magic) - Nocturne's daughter.
Chelsea Pondt on Chelsea's Lady of Telynor - Lady Ann's daughter.
Jennifer Currie on Churchill's Supreme Eclipse (Eli) - Nocturne's grandson.
Kimberly Harris on Nocturne's Royal Welsh (Socks).